Are you looking for a free email autoresponder software or a free mailing list management software?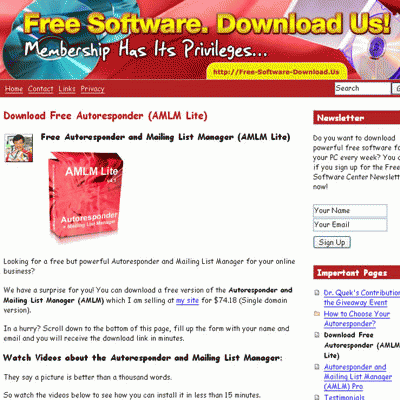 The Autoresponder and Mailing List Manager (AMLM) combines the best features of both. You can import and export your mailing list easily and quickly. There is no monthly charges. Here is how it works: When a visitor fills up a subscribe form on your site or sends an email to the autoresponder, the script automatically adds the visitor to a mailing list and begins the followup process at predetermined intervals.
The mailing list feature allows you to manage your messages and subscribers easily. Lots of powerful features included in the free version e.g., multiple autoresponders and mailing lists, multiple domains, personalized followup messages, scheduled mailings, double opt-in, link tracking system, email duplication check, unsubscribe link, unlimited custom fields, multiple file attachments, mySQL database, easy-to-use interface, plus a lot more.
The AMLM script is written in the Perl language. You simply install the script on your server (including free hosts) and it will run automatically trouble-free for years. All it takes is about 10-15 minutes to install. Follow the step-by-step installation guide or watch the installation videos provided on our website. Stop paying a monthly subscription fee to autoresponder companies.
With AMLM, you have unlimited usage and full access to your database. Free support provided at our forum. Thousands of copies of AMLM have been downloaded all over the world. Read unsolicited testimonials from our satisfied users at our forum. You can download the free unrestricted version and use it for as long as you like. Upgrade to the Pro version later only if required.
Download
Alternative Download 1
System Requirements:
WinNT 3.x, WinNT 4.x, Windows2000, Unix, Linux, Linux Console, Linux Gnome, Linux GPL, Linux Open Source
Version:
4.1
Last updated:
2010-05-06 02:20:03
Publisher:
Dr. Quek & Associates
Homepage:
http://www.DoctorQuek.com
File name:
amlmli04.zip
File size:
0.11MB
License:
Freeware
Price:
0