ApexSQL Doc creates database documentation in a variety of formats. Document SQL Server databases, objects, SSIS packages, SSAS databases and SSRS items in a single document. Render even the most complicated database into user friendly documentation with inline object descriptions, custom properties and graphical relationships. Generate database, SSIS, SSAS and SSRS documentation in CHM, HTML, PDF, Word. Automate and schedule the documenting process. Include relationship diagrams and data modle diagrams in your database documentation. Leverage extended properties and edit them directly.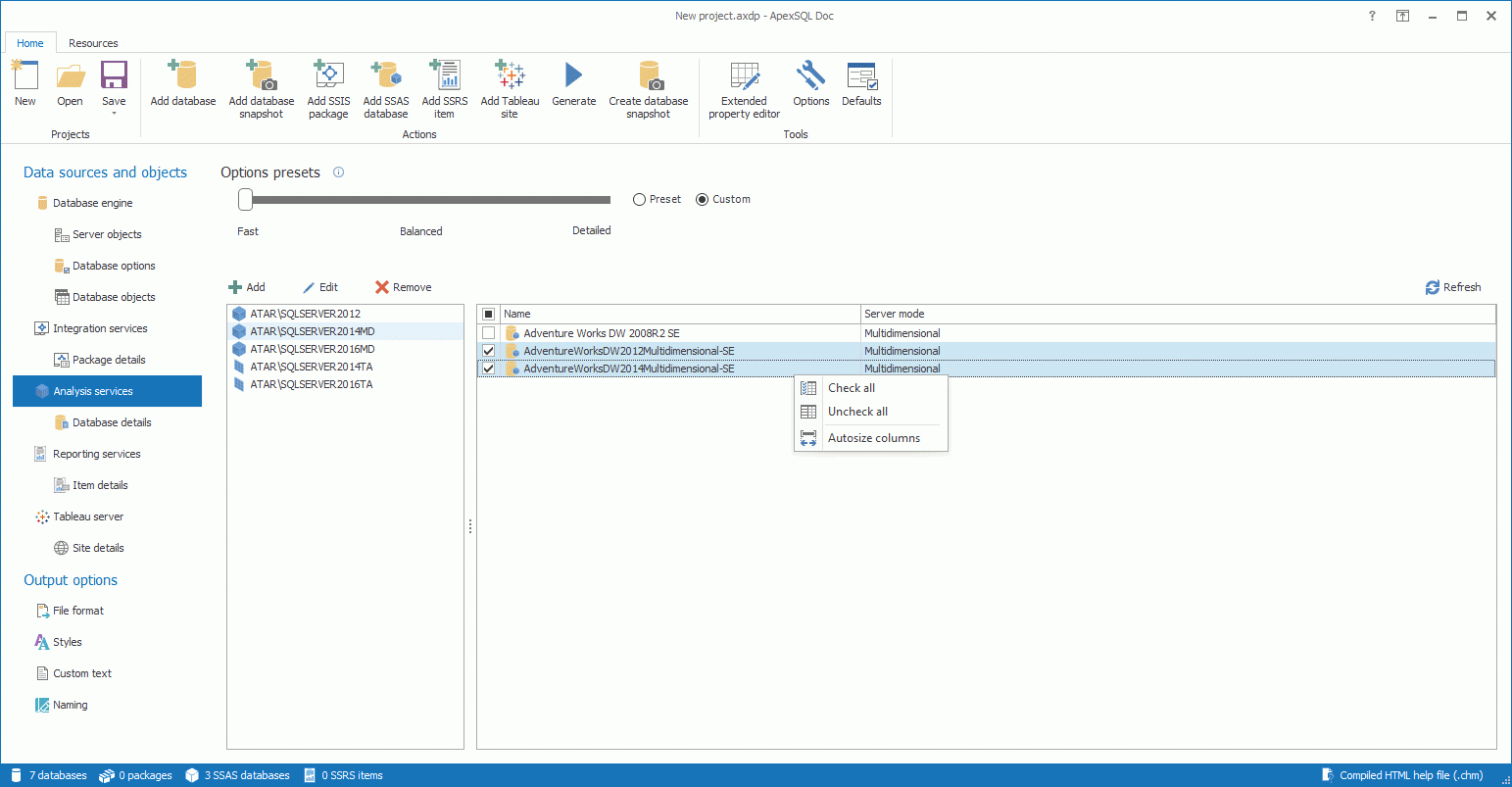 Features :
- Support for Azure Databases
- Suport for Amazon RDS databases
- Improved performance
- Support for SQL Server Integration Services packages
- Accurate dependencies
- Multiple documentation formats. Save your documentation in CHM, HTML, PDF, DOC or DOCX format.
- Granular control
- Customizable processing
- Transparent decryption
- Self-documenting SQL objects
- Custom styles
- Repeatable sessions
- Document from SSISDB catalog
- Document from SSIS Project file
- Document SSIS Data flow diagrams- Document SSIS Control flow diagrams
- Document Data model diagrams
- Document graphical dependency diagrams
- SQL Server 2016 support
- SQL Server Management Studio 2016 integration
- Interactive graphical dependencies diagram
- Granular documentation of object level attributes
- Document SSAS Tabular and Multidimensional models
- Document SSRS reports from File System
- Document SSRS reports in Native and SharePoint mode
- Create database schema snapshots
- Document database schema snapshots
- Support for Tableau server
Download
System Requirements:
Win7 x32, Win7 x64, WinServer, WinVista, WinVista x64
Version:
2017.03
Last updated:
2017-06-01 09:16:10
Publisher:
ApexSQL Tools
Homepage:
http://www.apexsql.com
File name:
apexsqldoc.exe
File size:
28.32MB
License:
Shareware
Price:
299