Altova XMLSpy 2011 Standard Edition is an entry-level XML editor for viewing, validating, and editing XML-related documents. It is perfect for users who need to open XML, DTD, XML Schema, XSLT, XQuery, HTML, and CSS files and perform light-weight editing tasks. XMLSpy Standard Edition includes advanced Text View with line numbering, syntax coloring, code completion, book marking, source folding, and pretty printing to help you view, understand, navigate, and edit files easily. Strong validation and well-formedness checking, coupled with intelligent, context-sensitive entry helpers, allow you to make valid edits based on your location in a document. You may also view XML, DTD, and XML Schema files in Grid View and/or XMLSpy's famous graphical XML Schema View to visualize data according to the document's hierarchical structure. Browser View is provided for viewing HTML pages that have been edited in Text View or created by an XSLT transformation. Authentic View is enabled when your XML document is associated with an Authentic e-Form created in Altova StyleVision. This form allows you to edit XML data using a word-processor-like interface. If you need to create XML content from scratch, XMLSpy Standard Edition can auto-generate a sample XML instance document based on a DTD or XML Schema. When your project includes multiple resources, the XMLSpy Project Window allows you to organize and manage related files in a tree structure that includes local, external, and Web folders, as well as Global Resources, which provide integration with other Altova tools. Whether used to view configuration files, maintain an RSS feed or other XML-based application, perform minor XML editing tasks, or learn about working with XML, XMLSpy 2010 Standard Edition is an affordable tool that delivers all the entry-level features of the world's leading XML editor. Download a free, 30-day trial of XMLSpy at www.altova.com today!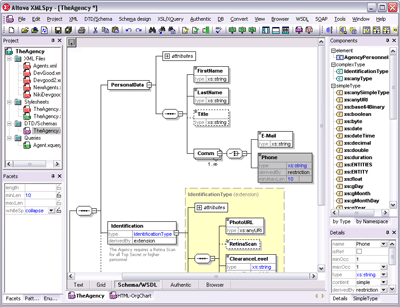 Download
System Requirements:
Windows2000, WinXP, Windows Server 2003, Windows Vista, Windows 7
Version:
2011
Last updated:
2010-09-14 15:03:38
Publisher:
Altova, Inc.
Homepage:
http://www.altova.com
File name:
XMLSpyStd2011.exe
File size:
34.17MB
License:
Demo
Price:
189