Altova DiffDog Professional Edition is the powerful diff / merge tool for files and folders. This easy-to-use synchronization tool quickly compares and merges source code and text-based files or directory pairs via its elegant visual interface. 2-way and 3-way comparison modes are supported. DiffDog provides advanced XML-aware differencing and editing capabilities based on those popularized in Altova XMLSpy, and integrates with any version control system that supports external differencing applications. For optimal efficiency, you can edit content directly within its differencing display, merge changes, and instantly re-compare. Intelligent syntax-coloring, line numbering, indentation guides, folding margins, and other innovative features assist in comparing source-code and XML files. DiffDog tells you when XML files are semantically equal even if they are not identical in a text-based comparison. Its XML differencing capabilities include DTD/schema-based validation, well-formedness checking, intelligent entry helpers, optional entity resolution, consideration of attribute and child element ordering, and more. DiffDog lets you examine and compare OOXML documents with XML-aware functionality. DiffDog also performs powerful directory comparisons. DiffDog can intelligently apply special comparison rules based on each file type, and open and edit file pairs directly from the directory comparison view. DiffDog even inspects Zip archives to compare and merge contents based on the original file types. DiffDog lets you selectively move files into target directories or synchronize entire directories in a single step. With all this, you can reconcile source code, XML, or binary file versions, or sync your laptop and desktop computers in a single step. Let DiffDog Professional Edition track down the differences in your essential development and data integration projects.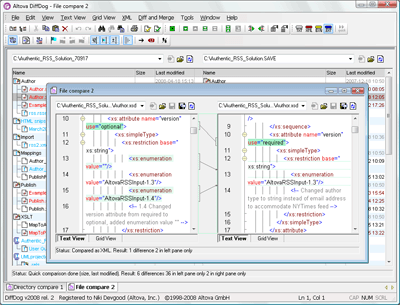 Download
System Requirements:
Win7 x32, Win7 x64, WinXP, Windows 8, Windows 10
Version:
2020r2sp1
Last updated:
2020-06-11 14:24:13
Publisher:
Altova, Inc.
Homepage:
https://www.altova.com
File name:
DiffDogProf2020rel2sp1.exe
File size:
45.03MB
License:
Demo
Price:
129