With AimOne Audio/Video to MP3/WAV Conveter, you can easily extract and convert audio from almost any kind of Audio and Video file types to MP3/WAV output in batch mode. It offers a built-in-player to view or listen to the file before extracting the sound, which allows you to set the start/end points of the portion you want to extract and convert. Supports AVI, VCD, DVD, MPEG, WMV, WMA, DAT, AC3, RM and other formats.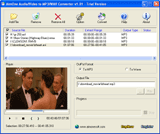 * Convert AVI to MP3, AVI to WAV, Support DivX, XviD
* Convert MPEG to MP3, DVD to MP3, VCD to MP3, Support MPEG-1, MPEG-2
* Convert ASF to MP3, WMV to MP3, WMA to MP3
* Convert RM to MP3, RA to MP3
* Support WAV to MP3 and MP3 to WAV
* Support DivX, XviD AVI, DVD, VCD, RM, RA, WAV, MP3 format
* Video preview
* Support Audio/Video Selection, so you can extract any sound segment save as mp3.
* High audio quality
* Support batch function