We know all about the line of asterisks. You know, that line of asterisks that represents your hidden, super-secret password to your FTP server. Those asterisks are quite a reassurance, aren't they? You don't remember what your FTP password is, but your FTP program does, and that's good enough for you. But think about your doomsday scenario. What if your FTP program suddenly gets corrupted one day? What if you have a fire or a flood? Even if you back up your hard drive diligently, your backup drive is probably sitting right there in the same space as your PC. I haven't even mentioned outright physical theft of your equipment, or sabotage by evil forces both internal (disgruntled employee) and external (ninjas). Your FTP program, and the passwords that are stored within it, are far from invincible. With Advanced FTP Password Recovery you can retrieve those forgotten passwords and store them in a super-secure alternate location, like a Post-It note in your wallet. Advanced FTP Password Recovery lets you recover FTP passwords by allowing your PC to emulate an FTP server. Simply fire up any FTP program, locate the profile containing the FTP password that you wish to recover, and change the server name to your own computer's local IP address (the ever-popular 127.0.0.1). Then, run the FTP server emulator that is the heart of the Advanced FTP Password Recovery tool and watch those secret FTP passwords flow in like candied gumdrops from heaven. Advanced FTP Password Recovery not only shows you these FTP passwords, it also saves them for you, both in the application itself as well as in files that appear in your FTP program's log. This is a really simple program to use - the directions for use are contained in the Settings tab itself, so if you're prone to losing things like, say, manuals or maybe, uh, passwords, you'll always be able to run the program.Advanced FTP Password Recovery lets you recover hidden passwords that are stored in any FTP program.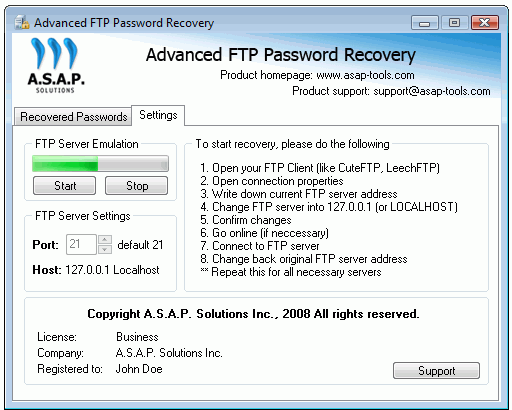 Download
System Requirements:
WinXP, Windows2000, Windows2003, Win98, WinME, WinNT 3.x, WinNT 4.x, Win95, Windows Media Center Edition 2005
Version:
1.2.5.8
Last updated:
2010-05-06 18:53:47
Publisher:
A.S.A.P. Solutions Inc.
Homepage:
http://www.asap-tools.com
File name:
ftpsetup.exe
File size:
0.51MB
License:
Shareware
Price:
19