ACIO Ovulation Calender is an easy-to-use personaland accurate ovulation calculator of menstrual firtility, cycles, ovulations. It helps you to achieve or avoid or achieve pregnancy, or even predict baby]s gender. ACIO Ovulation Calendar helps you use a natural contraception method. It shows you days when you are fertile, days of ovulation and predicts your baby's gender. The results are presented as a color-coded ovulation calculator.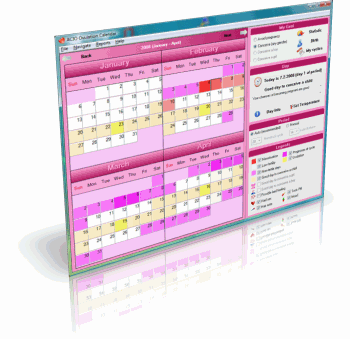 Want to become pregnant?
You are most fertile when you are ovulating, so if you know the time of ovulation, this will help to determine the best days to conceive. Ovulation chart shows the chances of getting pregnant based on your ovulation time and other information such as the life span of the egg and sperm.
Want to avoid pregnancy?
The ovulation calendar can be a great tool for those in monogamous relationships who want to avoid pregnancy. It's a natural, hormone-free birth control method that does not require remembering to take something every day. And it allows for freedom to change your mind at any time should you decide the time is right to start a family.
Want to choose the gender of your baby?
ACIO Ovulation Calendar helps you find the perfect time for conception, increasing your chances of having a boy or a girl.